Asha NYC/NJ is a non-profit, volunteer-driven organization dedicated to bringing socio-economic change and access to education in rural India. Our team is comprised of dedicated individuals from the New Jersey/New York area who strive to make a difference in society. We believe that education is one of the primary factors in shaping a child's future and, by extension, future of the entire country.
Asha NYC/NJ chapter works towards promoting the education of underprivileged children in India by providing financial assistance and support to the NGOs focused on education projects. Asha volunteers work closely with project partners in India while locally organizing fundraisers and community awareness events. All of these events, made popular by the continual efforts of its volunteers and the support of its patrons, directly help to support education projects in India.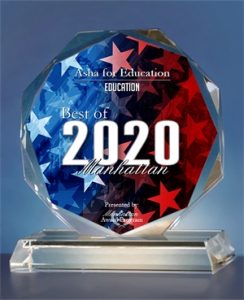 Recently, we have been honored with 2020 Best of Manhattan Awards in the category of Education.  More details  on this are here . We thank all our volunteers, patrons, local community, participants of our various events and our well wishers for your unconditional support, which made it possible for us to accomplish this.
Hurry Up! Participate in the Virtual Talent Show or the 5K Walk/Run
Learn more by joining us at our meetings
Time: Sundays @ 7:30 pm
Group Call Bridge: Contact Sharda Sheshabhattar for Details
Join our mailing lists to get Asha updates
Member's list – Moderated (~2-3/week), meeting agenda/minutes and small events are announced here!
Donor's list – Moderated (~1-2/quarter), large fundraisers are announced here.
Keep in touch over Facebook
To keep up with latest events around our chapter