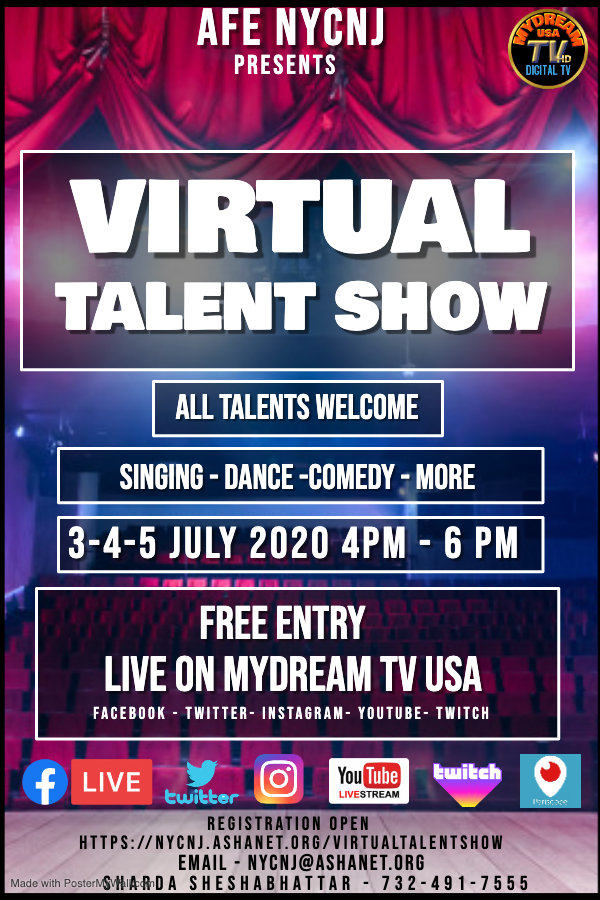 Contact: Sharda Sheshabhattar @ 732-491-7555
Vendors/Sponsors Information and  any other details Please Contact:
Sharda Sheshabhattar @732-491-7555
Or Email nycnj@ashanet.org
Registration Link For Participants
Click here to register for this event
Live Streaming links:
Rules of Participation
We use Chroma Keying process to replace Green color with a different background element.
So,Please Do Not wear any dress that has green color in it.
Also, Please do not have anything in green in the background.
Please register here to participate .
We will let you know the allocated time for  your talent show the day before the event.
You will need to create a Free skype ID to participate in the Virtual Talent Show.
On the day of the event, please login to your skype account and connect with Skype ID:  My Dream TV USA
Make sure to be at a well illuminated room so that your performance can be clearly seen on the camera
You can showcase any talent you have like singing, dancing, mono-acting, mimicry, poem recitation, etc
Each participant will get only 5 minutes to showcase his/her talent
You may participate all the three days , if you so wish and showcase different talents you may have.
Reporting Time: 1 hour before your scheduled time
All Participants will be awarded  Volunteering Hours and Certificates.
For more information Contact:
Manali @ 862-270-9870 Rujuta @732-997-2064  Sharda Sheshabhattar @ 732-491-7555 
Please Stay Connected with Us on Facebook by Liking our Page at Click here
This fundraising event is organized by the NYCNJ Chapter of Asha for Education.
All net proceeds go towards education projects for underprivileged children in India.[/cs_column][/cs_row][/cs_section]