Asha for Education New York chapter is hosting an online painting competition open to all ages. This competition allows people to showcase their creativity and help a noble cause. All proceeds from this event will go towards helping underprivileged children in India gain proper education and access to textbooks. During this competition, we will also be hosting FREE informative painting seminars via Zoom.
Complete the registration at https://forms.gle/g4X92B5Fm7XWX1w16 today to be eligible to participate in your first free zoom seminar, "Introduction to Painting" on November 28th 2020!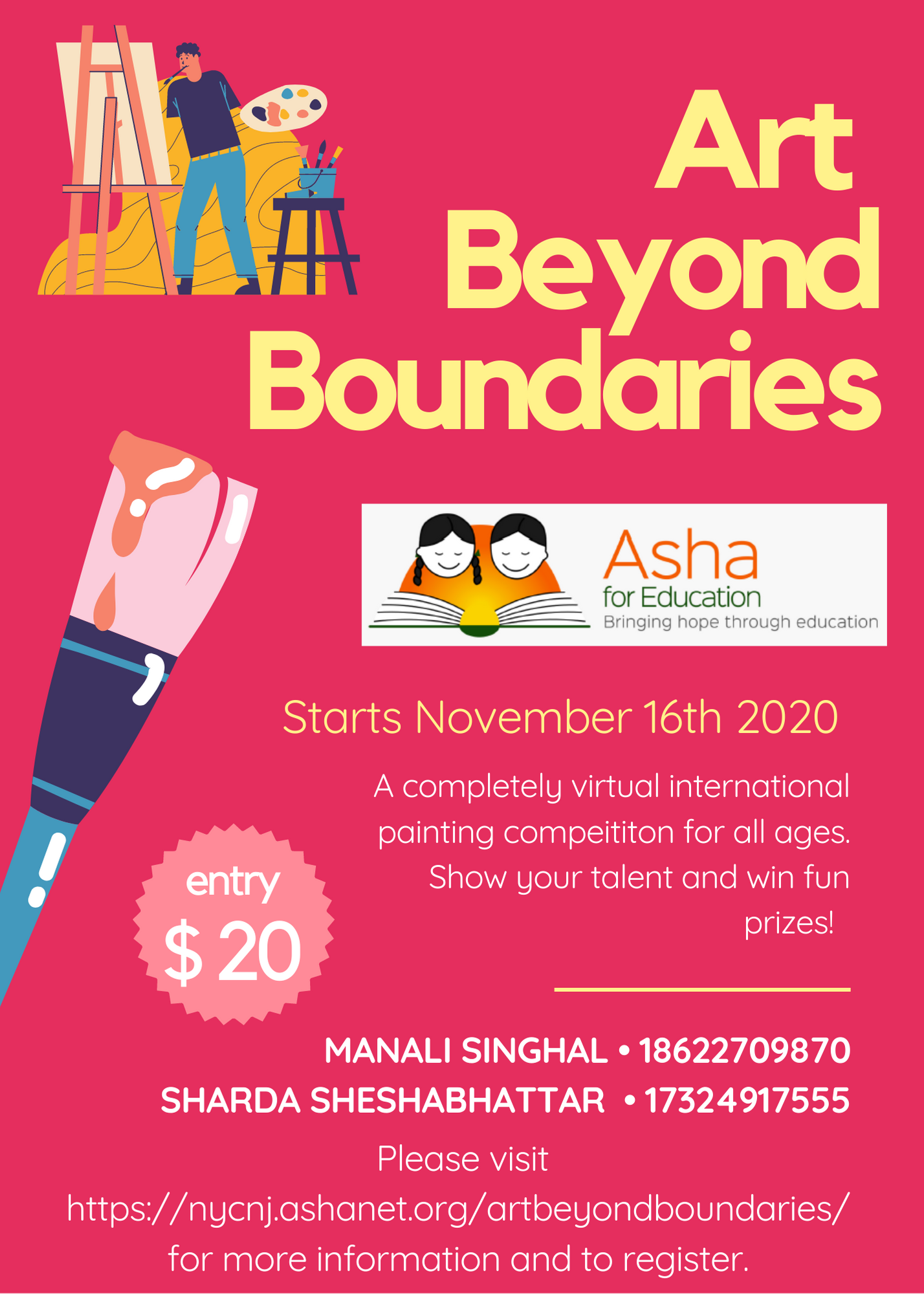 Art Beyond Boundaries Rules:
Registration Rules 

Must register in any one of the three age categories: 

Junior: Up to 12 years old 

Teens: 13 – 18 years old

Adult: 19 years old or over

Must pay the entry fee of 20 USD upon registration. 

Must fill out this online form upon registration:

https://forms.gle/g4X92B5Fm7XWX1w16

 

Registration closes November 25th, 2020.

There will be three rounds, and a zoom workshop before each one. The painting workshops will be taught by Mr. Bhavesh Gala.
There will be a rubric used to evaluate each painting upon submission in each round.
You can view this pdf for complete details about the competition. It includes rules, guidelines, and zoom seminar dates. If you like, you can view it here: https://docs.google.com/document/d/1jXXXZ_iJ67FezrxC2PLvu7OC2hDQMulGMllgOBYx2XA/edit?usp=sharing
For more information Contact:
Sharda Sheshabhattar @ 732-491-7555  or Aashish Pandya@ 732-510-9494 Or Email nycnj@ashanet.org
Please Stay Connected with Us on Facebook and Instagram 
This fundraising event is organized by the NYC/NJ Chapter of Asha for Education.
All net proceeds go towards education projects for underprivileged children in India.
[/cs_column][/cs_row][/cs_section]